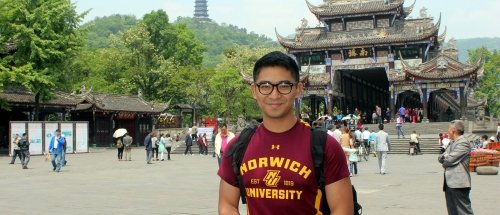 Chinese
The words "I'm fluent in the Chinese language" will open many doors.
About the Program
The Chinese program at Norwich has its sights set on the needs of our country's future. With a population of 1.3 billion and skyrocketing influence in the world's economic and political stages, China is a vast and diverse world power. There is an urgent need for business people, diplomats and military personnel who understand its language and culture and a wealth of opportunities for graduates who do.
Through dedicated and innovative classroom instruction, study-abroad opportunities and club activities, students become comfortable with the language and develop a nuanced understanding of the Chinese character through history, literature and cultural studies.
With twin goals of cultural competence and language proficiency, the bachelor's program includes a four-year sequence of language plus courses in Chinese studies. Along the way, students enjoy public lectures, film screenings, plays, ethnic celebrations, concerts and excellent opportunities to travel and study overseas. The on-campus Chinese Club organizes cultural events to enrich the learning experience of students. The staff and faculty prepare graduates for the job markets of industry, diplomacy and the armed forces, as well as graduate school. In all cases, learning Chinese opens up a fascinating new world of challenging study and opportunities.