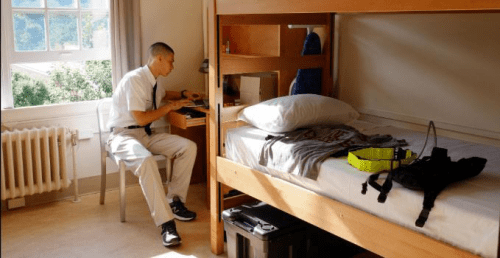 Norwich Housing:
Norwich's strong sense of community begins in the barracks and residential halls, where military and civilian students are housed based on lifestyle. We have approximately 2,100 residential beds on campus and a four-year on-campus living requirement for most residential students but do offer a waiver process for some who wish to live off campus if they qualify.
Residential Housing Options:
On-campus housing offers four residential housing areas which include the Upper Parade Ground, Crawford Hall, Dalrymple and South Halls.
The Upper Parade includes eight Corps of Cadet barracks located around the Upper Parade ground; where the fall and spring parades and ceremonies take place. Crawford Hall, a short walk from the Upper Parade ground houses additional members of the Corps of Cadets and Residential Civilian Students.
Dalrymple and South Halls house residential civilian students in single and double rooms. Two professional staff members reside in both halls and oversees all residential civilian students under the residence life and civilian housing director's supervision. Each hall is also supervised by trained 10-member student staff. Our residential communities offer a residential programming model, fitness centers, laundry and vending, community lounges and study rooms.
Norwich Dining:
Norwich Dining offers a wide variety of flexible meal plans for residential and commuter students to suit individual student tastes and needs. Our dining hall in the Wise Campus Center offers fresh, healthy, and satisfying all-you-can eat menus throughout the day. While the campus center's Mill and Kreitzburg Library Daily Grind Cafe offer grab-and-go breakfast, lunch and/or dinner options.
Norwich Dining also works to support local Vermont farmers and our community. We participate in Sodexo's Vermont First initiative to increase local food purchasing for campus, receiving Vermont Fresh Network's 'Gold Barn Award' for our exceptional partnership with Vermont farmers and food businesses.
In addition:
The Mill snack bar offers a wide variety of food and beverages to eat on site or to go. The Mill operates with extended hours during the academic year; hours are posted. 
The full Dunkin' Donuts menu is offered with extended hours during the academic year; hours are posted. 
Dining Plans
The residential dining plan for all rooks and freshmen provides 19 meals a week and snacks anytime the dining hall is open.
The Corps' freshmen (rooks) and some of their leaders eat separately on the dining hall's upper deck. All other students (sophomores, juniors, seniors, corps, civilian and commuter students on a meal plan) eat together on the main floor.
Sophomores, juniors and seniors residing on campus may choose one of the following meal plan options:
19 meals per week as described above

15 meals per week and $100 per semester to use in The Mill, 

Dunkin'

 or The Daily Grind.

12 meals per week and $200 per semester to use in The Mill or Dunkin'.