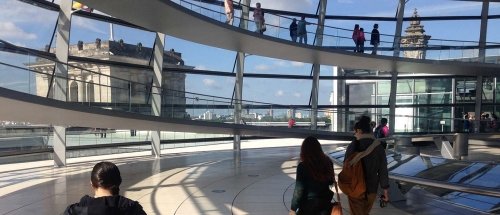 German
Minor in German at Norwich and enrich any degree you pursue.
About the Program
German is the mother tongue of about 100 million Germans, Austrians, and Swiss. Historically, it has been a leading language of the natural sciences, psychology, philosophy, political theory, poetry, prose and drama. Germany is the world's third-largest economy, second-largest exporter, and second-largest donor of development aid. Germany hosts the strongest concentration of American investments in Europe, while German companies employ 780,000 people in the U.S.
The German program at Norwich includes beginning and intermediate courses followed by a cycle of six survey courses. Some focus on cultural and political history, while others survey German, Austrian and Swiss literature. Courses are conducted in German, and open to students who have completed the intermediate German year.
Coursework is supplemented by weekly lunch-hour screenings of German films. There are drill sessions with assistant teachers two evenings a week for beginning students. Once a week, there is the informal Stammtisch — an hour of lunch and conversation (auf Deutsch, natürlich!) in the dining hall.
Students who have completed the intermediate level can participate in study-abroad programs in Germany or Austria, usually during the fall semester of their senior year. Exceptional students in the Corps of Cadets may be eligible for the ongoing student exchange with Universität der Bundeswehr, the German military university.