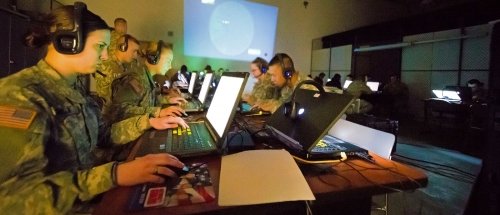 Computer Security & Information Assurance
EARN YOUR CSIA DEGREE FROM THE #2 RANKED CSIA PROGRAM IN THE NATION
At Norwich University, fuel your ambition to fight the ubiquitous invisible war against dangerous criminals who hide behind anonymity on the web. You will be joining the CSIA program that few undergraduate programs can match in scope and depth. Even fewer are designated by the NSA as a Center of Academic Excellence in Cyber Defense Education and as a Center of Digital Forensics Academic Excellence by the Defense Cyber Crime Center of the U.S. Air Force Office of Special Operations.
These designations recognize Norwich's significant contribution to protecting our national critical information infrastructure. 
YOUR LIFE AS A CSIA STUDENT AT NORWICH
Be prepared for an intensive program.
We train you to be ready for continued cyber threats whether to the individual, organization, or government. This means that you are going to dive into complex subjects to develop the skills and knowledge to defend your country from cybercrime. 
As a CSIA major our faculty challenges you to build a foundation in the liberal arts, mathematics, management, and the sciences, as well as computer programming, digital forensics, and information assurance—including a new course in The Politics of Cyberspace. 
Your education will encompass engaging classroom lessons, high-tech computer lab exercises, and real-world defense opportunities. Norwich also sets you up to take advantage of internships and offers the Cyber Leader Development Program (CLDP). Available to all students, you will gain from the different perspectives and experiences they bring to the program. You will be busy with extra-curricular and experiential career preparation, including club participation, competitions—like the NSA Codebreaker Challenge—and professional certifications.
CHOOSE FROM RARE AND VALUABLE CONCENTRATIONS 
There are countless advantages coming to Norwich for a CSIA degree. Another one of them is that we have concentrations that are hard to find anywhere else in Advanced Information Assurance or Digital Forensics:
Advanced Information Assurance Management prepares you to analyze requirements and implement measures to protect information confidentiality, control integrity, authenticity, availability, and utility, and to maintain their technical and managerial competence in the face of ever-changing requirements and technology. 
Digital Forensics teaches you to apply current forensics theory, ethics, techniques, skills, and tools at all levels of digital incident investigation relevant to solving policy violations and crimes. 
ADD VALUE TO YOUR NORWICH EXPERIENCE
To set yourself apart, consider joining one of the Leadership Academies, developed using our bedrock Leadership Development System with an experiential learning approach for those interested in joining either the private sector or government workforce to serve our country. These academies focus upon pathway opportunities for tuition assistance, fellowships, and internship programs.
While you are finishing your degree talk to your faculty about enrolling in one of our Accelerated Master's Pathways where you can apply your upper-level undergraduate courses and training into graduate credit and finish within 12-18 months after graduation online.
AFTER CSIA
Whether you focus on computer network security, malware, forensics, or cyber investigation, as a graduate of Norwich's CSIA program, employers in private industry, government, law enforcement, the military, health services, and academia will seek your services.