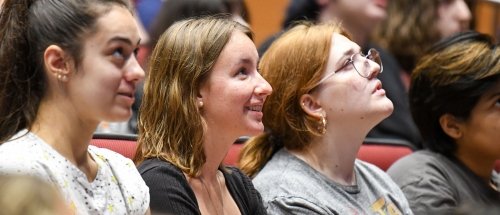 Spanish
FOR YOU, IT IS MORE THAN JUST THE LANGUAGE
You plan to study Spanish either to enhance your major of choice or focus solely on earning your degree in the second most spoken language in the world. Either way, we invite you to learn Spanish at Norwich as your gateway to engage within multiple cultures, traditions, and professions. 
Our faculty will take you on an amazing adventure of literary and culture-based study—focusing on Spain, Latin America, and Latinos/as in the United States.
YOUR LIFE AS A SPANISH STUDENT AT NORWICH
Choose between two content tracks for your bachelor's degree in Spanish:
Literature and Culture
Language for the Professions, which focuses on Spanish usage in multiple careers:

Spanish for Law Enforcement,
Spanish for Business,
Medical Spanish,
Interpreting and Translation,
Spanish for Media,
World Languages for Diplomacy
and Linguistic Diversity.
Focus on a specific path or mix and match them to create a truly personalized course of study. As a major, you will experience intellectual growth via our innovative curriculum and personal transformation through study abroad opportunities. Supplement your coursework at Norwich with bi- and multilingual internships or practicum opportunities on campus and beyond. 
SET YOURSELF APART
Consider joining one of the Leadership Academies, developed using our bedrock Leadership Development System with an experiential learning approach for those interested in joining either the private sector or government workforce to serve our country. These academies focus upon pathway opportunities for tuition assistance, fellowships, and internship programs.
While you are finishing your degree examine the opportunity to enroll in one of our Accelerated Master's Pathways where you can apply your upper-level undergraduate courses and training into graduate credit and finish within 12-18 months after graduation online.
PURSUING YOUR CAREER
Employers in the United States will appreciate that you speak, read, and understand a second language. But they will specifically value you for your cross-cultural understanding. 
With your fluency in Spanish, expect career opportunities to open up in primary and secondary education, medicine and health services, business, law and law enforcement, government and intelligence agencies, social work, foreign service, cyber linguistics, and much more.