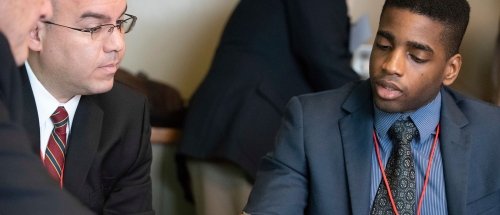 Accounting
COUNT ON YOUR FUTURE.
As an accounting graduate from Norwich, you will be prepared to address the needs of business operations because we will ground you in both the accounting and functional areas of business. With your degree in accounting, you will have acquired the knowledge, skills, and experience as a gateway to a multitude of professional opportunities in the public, private, NGO, and governmental sectors as well as the military.
YOUR LIFE AS A NORWICH ACCOUNTING STUDENT
As you study accounting at Norwich, you will study roles in traditional functions like budget, management and financial analysts, finance managers, and personal financial advisors. 
The accounting faculty focuses you on the process of analyzing, recording, communicating, and interpreting financial information about economic entities for the purpose of external and internal reporting and decision making. This means that it is important that we prepare you to get an unrivaled understanding of the internal functions of business.  
Select applied courses that enhance your skills in:
Advanced Federal Income Tax
Government and NGO Accounting
Data Analytics for Accounting
Expect to continually hone your analytical, technical, problem-solving skills. Learn to translate your knowledge to master how to make external and internal reporting and business critical decisions.
LEARN TO BE A LEADER

Since accountants often become leaders in their field, we encourage you to join one of our Leadership Academies, which provide structured pathways into the workforce.
ENGAGE IN EXPERIENTIAL LEARNING
Explore your potential through the opportunities to gain practical experience, course credit, and perform community outreach, including the campus-based Volunteer Income Tax Assistance program (VITA, in conjunction with the IRS) and internships with local, regional, and national accounting firms.
CREATE MORE VALUE
Stand out to your future employer with a double major in Accounting and Management that you can achieve with a few additional courses. Challenge yourself to expand your degree and add resume-boosters such as a concentration in Financial Economics.  
While you are finishing your degree consider enrolling in one of our Accelerated Master's Pathways where you can apply your upper-level undergraduate courses and training into graduate credit and finish within 12-18 months after graduation online.
GETTING STARTED IN YOUR CAREER
With Norwich's focus on preparing service-minded students to change the world for the better, you may want to consider the Armed Forces and other government and law enforcement agencies—particularly those that investigate corporate or organized crime.
No matter what path you choose, you will be well-prepared with your hands-on education in both the accounting and functional areas of business.