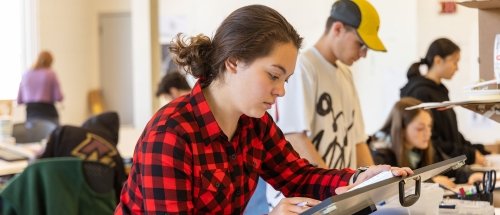 Architecture + Art
DESIGN A BETTER WORLD 
The School of Architecture + Art program is going to challenge you through an exciting, interactive, and rewarding experiential learning journey. Upon graduation, you will have a deep understanding of the creativity of aesthetics, the must-have component of functionality, and the integrated design process. 
And you can feel confident that your architecture career will get a jump start because our program has ranked #3 in the United States of the "most hired from universities."
 
YOUR LIFE AS A NORWICH UNIVERSITY ARCHITECTURE STUDENT

In short, it is an immersive education about the art and science of architecture.  
With a focus on human-centered design, your faculty takes you on a rigorous journey to evolve your unique perspective. They inspire you to think creatively and motivate you to reach beyond what you thought possible. Learn how a structure or interior design affects people and the environment. Embrace environmental sustainability as part of our – and Vermont's -- ethos. See your potential grow as you master how to turn a concept into reality.
A SMALL SCHOOL WITH MANY ADVANTAGES
Expect engaging mentoring relationships with your faculty. Develop life-long friendships as you hone your skills, spending countless late nights in the lab with a group of your peers hustling to get the assignments exactly right. 
Consider this: The School of Architecture + Art is the only accredited architecture program in Northern New England to offer integrated programs in Architecture, Business, Construction and Engineering. 
LEARN TO BE A LEADER 
To set yourself apart, consider joining one of the Leadership Academies, developed using our bedrock Leadership Development System with an experiential learning approach for those interested in joining either the private sector or government workforce to serve our country. These academies focus upon pathway opportunities for tuition assistance, fellowships, and internship programs.
GO EVEN FURTHER WITH OUR 5-YEAR MASTER'S DEGREE 
Why not challenge yourself and pursue our one-year, NAAB-accredited Master of Architecture degree (first professional) and two art minors. This 5+ combined bachelor's and master's degree advances your love of architecture and career opportunities even further.
STARTING YOUR CAREER 
Feel well-prepared to begin a satisfying career serving the needs of people and the world.  
Our dedicated Board of Fellows, alumni, and faculty will help you find jobs and internships. Attend our annual in-house career fair that welcomes more than twenty firms and provides more than one hundred student interviews with potential employers.