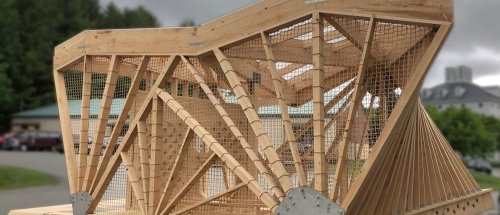 Master of Architecture (M.Arch.)
DESIGN A BETTER WORLD 
The School of Architecture program is going to challenge you through an exciting, interactive, and rewarding experiential learning journey. Upon graduation, you will have a deep understanding of the creativity of aesthetics, the must-have component of functionality, and the integrated design process. 
And you can feel confident that your architecture career will get a jump start because our program has ranked #3 in the United States of the "most hired from universities."
 
Program Description
The School of Architecture + Art explores in many dimensions the meaning of making and the making of meaning. The School reinforces the student's ability to think creatively and independently, reflecting the University's ideals to develop citizens with integrity, conviction, and self-respect who are educated and motivated to be leaders in service to the community. The School of Architecture + Art offers a Bachelor of Science in Architectural Studies and a Master of Architecture (NAAB-accredited).
The School of Architecture + Art graduate program encourages creativity, critical thinking, independent learning, and the exploration of ideas through hands-on making.  Our innovative approach to education integrates ongoing, experiential learning with traditional classroom learning. Students develop an understanding of community scale and have the skill set to engage in the development, design and construction of projects that enhance that way of life through their actions as professional architects.
Master of Architecture (M.Arch.) Degree Program Pathways
The graduate program challenges students to carve out their own path of study. We are committed to preparing our graduates to be critical thinkers, global citizens, and design-build leaders. Students progress through the program from 1-3 years depending on their educational backgrounds. Most typically, the M.Arch. I enables students with an undergraduate degree in Architecture to earn the M.Arch. in one year and the M.Arch. III enables students with a program of study not in architecture to earn the M.Arch. in three years. Students accepted to the M.Arch. III pathway with an undergraduate degree not in architecture but in a related field may receive transfer credit and shorten the three-year course of study accordingly.
In most states and territories an accredited first professional degree, like the Master of Architecture, is a requirement for professional licensure.
Accreditation
The M.Arch I is a combined bachelor and master five-year professional degree accredited by the National Architectural Accrediting Board (NAAB), www.naab.org, 1101 Connecticut Ave NW #410, Washington, DC 20036, phone, 202-783-2007. The M.Arch. III, the pathway to the M.Arch. for students with an undergraduate degree in a field other than architecture, is pending NAAB approval.