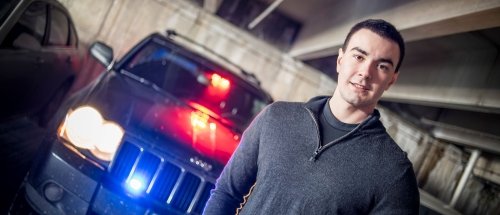 Criminal Justice
CREATE A SAFER WORLD FOR FUTURE GENERATIONS
You are driven by a sense of purpose. You will fit right into our Bachelor of Science in Criminal Justice program at Norwich University. We prepare you to lead and serve–with purpose–in this field by emphasizing critical thinking and the importance of evidence-based knowledge in crime policy, programs, and criminal justice work in practice. Faculty cultivate a culture of commitment to principles of justice, ethics, and public service. 
 
YOUR LIFE AT NORWICH IN THE CRIMINAL JUSTICE PROGRAM
You join a program with ambitious, like-minded students—committed to the service of others—as you all consider careers from law enforcement, intelligence, the courts, and corrections to law and foreign service.
Our faculty teaches you to develop a broad understanding of crime, criminal law, criminal justice procedures, and the sociocultural contexts in which human behavior occurs.
We also have you focus on data analytics in intelligence and crime analysis. Become well practiced—and continually hone your abilities to collect, analyze, and act upon information in a variety of local, national, and international threat environments. This means you will gain experience in extremist propaganda analysis, information warfare, and text network analysis, to name a few areas of study.
GO BEYOND THE BOUNDRIES OF THE CLASSROOM
Immerse yourself in real-world case analyses, police and court observations, simulations and guest lectures by judges, lawyers, correction commissioners, and lawmakers. A range of minors—such as criminology, transnational crime, cybercrime and computer forensics, and pre-law as well as internships at federal and state agencies—create a truly specialized academic experience.
Study abroad in numerous locations including CityLab Berlin. Work with a faculty mentor on individualized research. Put your investigative skills to the test at our annual CSI Symposium.
STAND OUT FROM THE REST
There are a few ways to fuel your ambition and add further value to your education. 
Consider joining one of the Leadership Academies, developed using our bedrock Leadership Development System with an experiential learning approach for those interested in joining either the private sector or government workforce to serve our country. These academies focus upon pathway opportunities for tuition assistance, fellowships, and internship programs.
While you are finishing your degree talk to your faculty about enrolling in one of our Accelerated Master's Pathways where you can apply your upper-level undergraduate courses and training into graduate credit and finish within 12-18 months after graduation online.
Both in and out of the classroom, the Norwich BS in Criminal Justice offers unparalleled opportunities.