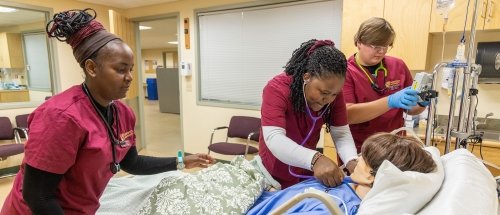 Nursing - Traditional
WE MEET YOU WHERE YOU ARE AND HELP TAKE YOU WHERE YOU WANT TO BE
The nursing field is growing and rapidly evolving. Nurses are in high demand. The School of Nursing's (SON) traditional and accelerated bachelor's degrees in nursing provide our students with the knowledge and practice to be exceptional and compassionate healthcare professionals with the technical knowledge and skills to succeed in a variety of hospital or clinical settings. Our graduates are highly sought and are making a difference both in small rural clinics, urban centers, and large metropolitan hospitals.
The School of Nursing gives students the tools and technology to succeed. The School's innovative and up-to-date labs and technology make sure our students are learning best practices in Nursing at the cutting edge. Our labs include medium and high-fidelity simulation equipment as well as new Virtual Reality simulation tools for learning and practicing patient care and interaction. Students are provided with the tools for mobile computing right from the start and are prepared for contemporary practice methods like the most current medical record technology.
Students learn with exceptional Nurse educators on campus and across the region through our many partner hospitals. You will be engaged with nursing from the very start of the program, begin clinical rotations in your second year and complete a total of over 400 hours before graduating. You will have opportunities to practice your skills in a diversity of locations, including study abroad opportunities, and hone your skills with the benefit of accessible faculty and small classes and clinical groups.
While all Nursing programs are demanding we are proud of the community in the School. Nursing students work together to succeed and the whole Norwich community is a resource to help our graduates gain the depth of knowledge needed to prepare you for the challenges and opportunities of the nursing profession in the 21st century.  
A small list of realistic outcomes for the major:
Community Health Registered Nurse
Bedside Registered Nurse (large or small hospital)
Emergency room, acute care, intensive care, labor and delivery, postpartum, intensive care nursery, pediatrics, critical care, operating room, recovery room, or oncology
Outpatient or ambulatory care Registered Nurse
Correctional Registered Nurse
School Registered Nurse
Traveling Registered Nurse