The Center for Writing
The Center for Writing is a welcoming space where Norwich's writers—students, faculty, and staff—come together to talk about writing.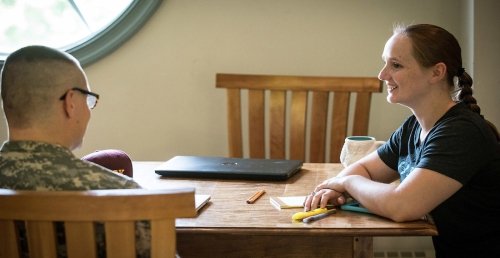 Our mission at the Center for Writing is creating a culture of writing here at Norwich. What exactly does that mean? It means we acknowledge how much writing we all do on a daily basis in professional settings, digital environments, and within our communities. The center helps make all that writing more visible through consultations, events, workshops, discussions, classroom visits, outreach, initiatives, and relationships. We believe that we are all, each and every one of us, writers and that together we can help each other become even better writers.
To support this belief, we offer free one-to-one consulting, as well as small group workshops, to the Norwich community. Our peer consultants are sophomores, juniors, and seniors from a wide range of disciplines who are trained to work with writers on a variety of writing projects—academic, creative, professional, digital—at all stages of the writing process.
Operating Hours
Sunday to Thursday 
2 to 5 p.m. and 7 to 9 p.m. 
Location: Kreitzberg Library, second-floor reading room 
What We Do
Interpret assignments
Brainstorm ideas
Develop a thesis
Organize ideas
Enhance clarity
Use Word effectively
Compose in various media

Revise early drafts
Pre-write
Hone their style
Analyze and target audiences
Cite sources effectively
Determine how to publish
Learn more about grammar
In other words, whether you need help brainstorming ideas for a history paper, organizing a lab report, or developing characters in your next novel, our consultants guide can help guide you through that process by listening to your concerns, asking thoughtful questions, and providing examples and suggestions tailored to your needs.
For instructors who would like support in their individual courses, we can provide embedded consulting during classes devoted to writing, revision, editing, or documentation. We also support Norwich faculty who want to integrate more writing into their courses or refine their existing writing assignments, exercises, and feedback. And, because faculty are writers too, we provide the space and support for faculty writing groups.