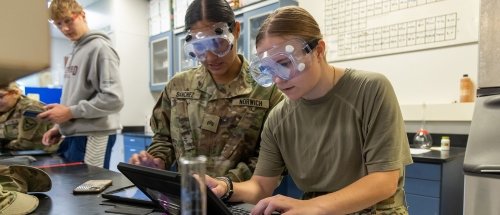 Biochemistry
The Biochemistry program at Norwich is small but mighty. You will get the full attention of our exceptional faculty from day one, start using research-grade instrumentation in your first year, and have a chance to get involved in a research project by the time you are junior.
About the Program
Biochemistry studies the molecules that make up life. Proteins and enzymes, RNA and DNA — it is a science that explains  cellular machinery's mechanics. These insights are applied via gene therapy, biologics, bioprosthetics, bioinformatics and other avenues to improve lives. Our program includes the sciences of molecular biology, immunochemistry, neurochemistry, and bioinorganic, bioorganic and biophysical chemistry. Biochemistry is applied to medicine, dentistry, veterinary medicine, food science, agriculture, toxicology and techniques to study the diagnosis and therapy of disease and the assessment of health.
Biochemistry majors at Norwich are perfectly positioned to launch careers in the biotech or health care industries or to prepare for medical school. Exploring how biology performs complex chemical reactions, biochemistry helps us understand life itself. It is a fast-growing, cutting-edge science with many practical applications today.
A Bachelors of Science degree in Biochemistry from Norwich will provide you with a solid background in chemistry, biology, physics, and math. You will learn to develop new ideas, problem-solve, conduct research, and analyze and evaluate data. Our graduates are highly desired by industry and government employers for their laboratory skills. They are well prepared to embark on careers in industry, government, education and the military, or for graduate education in chemistry, biochemistry, medicine or law.
If you are thinking about medical or dental school, the Biochemistry program at Norwich covers all the recommended classes. And you will still have free electives left in the curriculum to explore your other interests.
Students who seek bachelor's degrees in chemistry or biochemistry embark on a thorough, hands-on, laboratory-oriented program at Norwich University.
The Department of Chemistry & Biochemistry provides a variety of opportunities for undergraduate research. In addition to required senior laboratory courses, students collaborate with faculty on independent, externally funded projects. They enjoy small class sizes and dedicated faculty members who go out of their way to ensure students get the individual attention and support they need to succeed.
To view additional program details for majors such as course offerings, requirements, and curriculum maps for the Biochemistry course offerings and a curriculum map, visit the Norwich University Course Catalog using the link below.