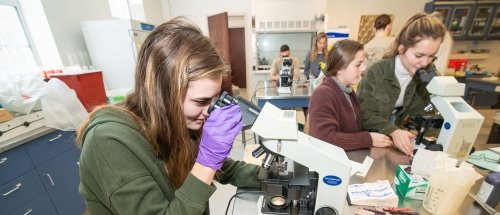 Biology
As a biology major at Norwich University, you will acquire a first-class foundation for admission into graduate, medical, optometry, dentistry, or veterinary school, and numerous other related fields in the workforce.
About the Program
Biology is the scientific discipline that investigates life in all of its forms. An appreciation of the complexity of structure and function requires the use of a variety of teaching tools, including the use of living and preserved organisms. Consequently, both living and preserved organisms will be ethically and humanely employed whenever appropriate to further student understanding and appreciation for life.
A core curriculum of science, mathematics, and English courses ensures that, as a biology major, you'll develop key analytical and communication skills.
Rounding out the major, four free biology electives and seven free electives empower you to design a program that meets specific career goals and develop one or more minors and/or double majors. A special pre-medical committee oversees students on a pre-medical/pre-dental track and helps place them in programs following graduation.
To view additional program details for majors such as course offerings, requirements, and curriculum maps for Biology course offerings and a curriculum map, visit the Norwich University Course Catalog using the link below.