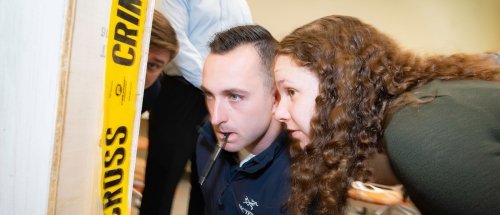 Criminology
MAKE AN IMPACT IN OUR JUSTICE SYSTEM & BEYOND
Upon graduation, you will be well-prepared, as a criminologist, to improve real-world outcomes in the justice system, crime scene investigation, forensics, other academic fields, and society at-large.
 
YOUR LIFE AS A CRIMINOLOGY STUDENT AT NORWICH
Our faculty will immerse you in critical thinking and empirical analysis of research. Get ready to delve into the biological, psychological, and sociological theories that explain why crime happens in society. Also be prepared to study, in-depth, the types of crime—including violent, property, corporate, political, and so-called victimless crime—as well as methods for studying crime and the characteristics of criminals. 
Find engrossing challenges and work with a faculty mentor on individualized research. Put your investigative skills to the test at our annual CSI Symposium. Study abroad in Norwich's program in numerous locations including CityLab Berlin. 
BEYOND YOUR DEGREE IN CRIMINAL JUSTICE AT NORWICH
Fuel your ambition and choose to minor in Pre-Law, Environmental Criminology, or Intelligence and Crime Analysis, or pursue dual degrees in Criminal Justice or Psychology. 
To set yourself apart, consider joining one of the Leadership Academies, developed using our bedrock Leadership Development System with an experiential learning approach for those interested in joining either the private sector or government workforce to serve our country. These academies focus upon pathway opportunities for tuition assistance, fellowships, and internship programs.
While you are finishing your degree talk to your faculty about enrolling in one of our Accelerated Master's Pathways where you can apply your upper-level undergraduate courses and training into graduate credit and finish within 12-18 months after graduation online.
PURSUING YOUR CAREER
Feed your drive to make the world a better place in any number of roles in your criminology career including in social and human services related to criminal, juvenile, and social justice; federal, state, and local law enforcement; intelligence; private and corporate security; crime analysis; and public health. 
Both in and out of the classroom, the Norwich BS in Criminology offers unparalleled opportunities.