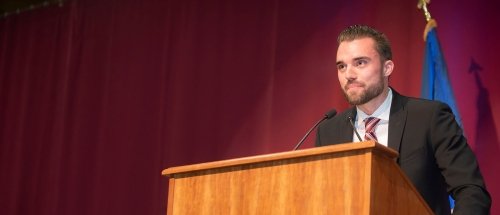 Management
Whether you want to lead a large organization or a small team, a management degree from Norwich will prepare you for many career paths in a tough, competitive world.
About the Program
Our flexible program prepares majors for leadership and management positions in small- and medium-sized businesses, governmental organizations, and the military. Whether you're a budding entrepreneur, leaning toward a corporate career, or planning to manage a family business, our program can be tailored to your needs. Leadership and management skills necessary for a military or international career are emphasized, and a minor degree is also available.
Management majors choose from one of five concentrations: computer information systems, financial economics, leadership, marketing, and sports management. Many management majors frequently double major in accounting, a path that requires as few as two additional courses.