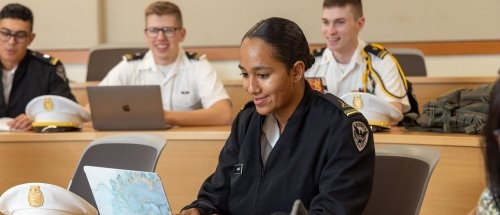 Psychology
TURN YOUR CURIOSITY INTO CAREER 
Put your innate curiosity about the human mind to work by pursuing a Psychology degree at Norwich. Together, we will cultivate that curiosity into intriguing career options, especially if you are purpose driven.
Whether you are considering a military career or plan to venture into a psychology discipline, government service, or other civilian sectors, employers will widely appreciate you for your thorough research techniques, collaborative approach, insightful data interpretations, mature writing and presentation skills, and an abundance of other relevant skills. 
YOUR LIFE AS A PSYCHOLOGY MAJOR AT NORWICH 
Imagine our faculty immersing you into the study of humans: emotions, motivations, aesthetic appreciation and experience, creativity, and how we relate to the people around us and the world. And picture yourself also studying biological and social science subject matter and methodologies. Choose either a BA or BS program in Psychology.
Engage in a discipline that fascinates you from experimental, social, developmental, and/or clinical perspectives. Concentrate in Neuroscience or Criminology. Minor in Forensic Psychology, Cross-Cultural Psychology, Political Psychology, Leadership, or Engineering Psychology. Or earn a BS in Education, which leads to licensure or non-licensure in Elementary and Secondary Teaching. Experiment in the active research labs that support student research—including studies as various as EEG, eye-tracking, psychophysiology and even flight simulation. 
THINK LIKE A GRADUATE STUDENT IN SENIOR YEAR 
Challenge yourself as you develop your Senior Thesis and dive into the real-world of psychological research. Maximize the opportunity to engage in archival research, develop an original hypothesis and experimental design, submit a proposal to the Norwich Institutional Review Board (IRB) and conduct a research study. You will be ready to skillfully present your research at a professional conference. It will also serve to propel you into graduate school. Or create a work portfolio for careers requiring a background in psychology. 
STAND APART FROM THE REST
To set yourself apart, consider joining one of the Leadership Academies, developed using our bedrock Leadership Development System with an experiential learning approach for those interested in joining either the private sector or government workforce to serve our country. These academies focus upon pathway opportunities for tuition assistance, fellowships, and internship programs.
While you are finishing your degree talk to your faculty about enrolling in one of our Accelerated Master's Pathways where you can apply your upper-level undergraduate courses and training into graduate credit and finish within 12-18 months after graduation online.