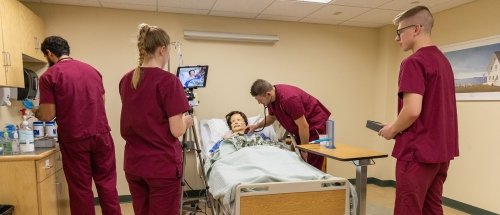 Accelerated BS in Nursing
COMPLETE YOUR NURSING DEGREE IN 18 MONTHS
Do you hold an associate's or bachelor's degree and are looking to return to school to earn a bachelor of science in nursing? Or, perhaps you realized late that nursing was your passion? This accelerated track could be a fit for you. Complete a nursing degree in a year and a half and join the ranks of proud Norwich alumni.
Nursing at Norwich University is grounded in the core essentials of baccalaureate education and predicated on the profession's ideals of compassionate care, respect, integrity, and social justice. Recognizing emerging trends in population health, technology, and cultural diversity and inclusion as inherent components of professional nursing practice, we prepare students for professional nursing roles in a transforming, complex, and dynamic healthcare environment. The Faculty members believe that through participation in direct clinical care and simulated clinical experiences, students will acquire the knowledge, skills, and attitudes necessary for nursing competence in promoting optimal health outcomes for individuals, families, and communities. 
The Faculty further believes that teaching and learning evolves, through a seamless progression, in competency-based nursing practice. Graduates become proficient in patient-centered care with an emphasis on quality improvement methods and patient safety. The responsibility of the professional nurse is complex, requiring expertise in leadership, communication and teamwork.
The School of Nursing offers a program, accelerated, and RN-BS programs leading to the Bachelor of Science. The traditional four-year and accelerated programs lead to eligibility to take the National Council Licensure Examination for Registered Nurses (NCLEX-RN).
Goals
Integrate knowledge derived from nursing science, health-related sciences, and humanities when designing and providing patient-centered care.
Provide patient-centered care in which the dignity, spirituality, and rights of the individual family and community are respected.
Promote the profession's obligation to legal, ethical and moral standards.
Lead, based on the values of commitment, collaboration, critical thinking and creativity.
Employ informatics to communicate, manage knowledge, mitigate error, and support decision-making.
Communicate effectively in a manner that fosters respectful and collaborative decision making, thus enhancing patient satisfaction and health outcomes.
Integrate political awareness, critical thinking, social justice and participation in the policy process with professional role behavior.
Use the best current evidence coupled with clinical reasoning to minimize risk and improve the quality and safety of patient care.
Value the pursuit of practice excellence, lifelong learning, and professional engagement to foster professional growth and development.
Accelerated Program
The School of Nursing offers an accelerated program to those who hold a previous degree and who have met the accelerated track pre-requisites. Spaces may be limited, inquire with the admissions office. Students in this track begin in the summer and fall.  Students complete the Nursing Program in five consecutive semesters, including summer ending in December & April.
Traditional and Accelerated Programs
Students will take a pre-NCLEX exam during senior-level Nursing courses to determine readiness for NCLEX exams. Students are required to purchase student uniforms. Students are responsible for their own transportation to and from clinical agencies. Nursing majors must have current "American Heart Association Basic Life Support (BLS) CPR & AED Training for Healthcare Professionals" certification in cardiopulmonary resuscitation (CPR) upon entering the sophomore year and through all subsequent nursing courses. All immunizations must be up to date including an annual Flu immunization and a tuberculosis skin test done annually.