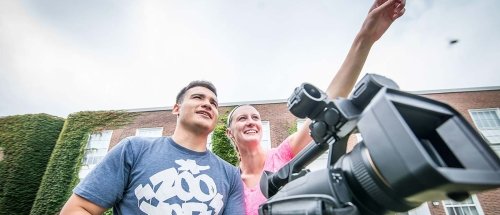 Communications
CREATE MESSAGING THAT INFLUENCES THE WORLD 
If you are considering our Communications program at Norwich, you may already know that you want to make a career out of communications. Or you may be like many of our students who are not sure. Either way, this is your opportunity to learn to become a powerful communicator, and as such, an influential changemaker. That is a skillset that is valuable no matter what career you choose. 
THE LIFE OF A NORWICH COMMUNICATIONS STUDENT
Why is it so relevant? You will delve into an interdisciplinary curriculum that combines the study of science, media, and information technologies to engage within social contexts in communities, organizations, teams, nations, societies.
This means we will immerse you in courses to develop your understanding of your audience, effective messaging, and the vital role these factors play in conveying meaning—using the latest in emerging multimedia platforms and collaborative social and digital networks.
In short, together, we will build your expertise to develop a deep understanding of your audiences to shape meaningful messaging—and interaction—using multiple tools.
GAIN EXPERIENCE IN THE FIELD
For over two hundred years, Norwich has immersed students like you into experiential learning environments. We will motivate you to cultivate your potential by working with our on-campus radio station or by using our broadcast equipment to create your own podcast or digital production.
Take advantage of our Leadership Academies to solidify your pathway into this field. They provide a valuable opportunity for you to practice communication elements in public and private sectors.
Then test and hone your skills while spending your internship semester pursuing opportunities at top organizations and outlets that have included Apple Music, U.S. State Department, WCAX TV, Vermont Chamber of Commerce, State and Main Mediation, PBS, and many others.
TAKE YOUR EDUCATION EVEN FURTHER
You have ambition, and you are always up for a challenge. While you are finishing your degree consider enrolling in one of our Accelerated Master's Pathways where you can apply your upper-level undergraduate courses and training into graduate credit and finish within 12-18 months after graduation online.
PREPARE TO GO BEYOND IN YOUR CAREER
Graduate from Norwich as an expert communicator – the single most important skill employers seek in new hires. You will have the foundation for a successful career in the military or government service. Or turn your interest in sports, music and culture, social media, or news into a rewarding new position. Connect with Norwich alumni at Google, ESPN, Sony Studios, or at local or national news outlets, sports franchises, or social media platforms.