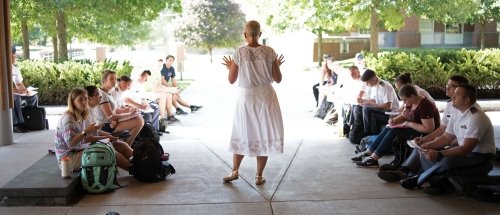 Education
SHAPE THE FUTURE AS AN EDUCATOR 
Whether your goal is the classroom or another career, we will challenge you to achieve the highest levels of preparation to serve within a wide array of professional fields—from classroom and online teaching, school administration and curriculum development to education policy analysis, public and non-profit foundations, museums, and human resources management. 
 
YOUR LIFE AS A NORWICH EDUCATION STUDENT
Choose between the following majors and decide upon licensure and non-licensure paths:
Elementary Education,
Physical Education,
PreK–12,
Mathematics
A second Education major to teach the High School level.
It is not just in-class study. Norwich invented experiential learning over two hundred years ago and we still practice it today. Complement your educational theory training with real-world training. Expect applied classroom experience each academic year and complete many practicum hours before graduation.
SET YOURSELF APART
The Elementary Education program sets the highest standard in the field due to its scientific approach to language and literacy instruction.
Consider joining one of the Leadership Academies, developed using our bedrock Leadership Development System with an experiential learning approach for those interested in joining either the private sector or government workforce to serve our country. These academies focus upon pathway opportunities for tuition assistance, fellowships, and internship programs.
PURSUING YOUR CAREER
Norwich Education majors often receive multiple offers—and secure jobs—before they graduate, and teachers licensed in Vermont receive licensure reciprocity with all but three states.