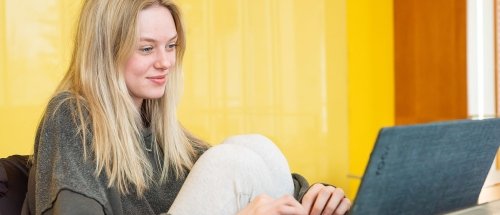 English
TRANSFORM A SUBJECT YOU LOVE INTO A FUTURE CAREER 
You belong here at Norwich. Because you have a great passion for literature, enjoy expressing yourself creatively, and aspire to challenge yourself—and others—to think critically about the world around us. And you want to apply your English degree training to a meaningful career after you graduate. We are on the same page. 
EXPLORE YOUR PASSION FOR LITERATURE
We will deepen your love of literature as you study subjects that cover period and thematic themes across the literary canon. We will also expand your perspective in specialty classes; from Military Literature to Third World Literature. And we will charge you to continually hone highly prized skills like research, analysis, critical thinking, writing, and presenting. 
PREPARE FOR YOUR CAREER 
We also want—no, we expect—you to begin a rewarding career of your choosing. So, we embed professional preparation in our English program. 
This means you will join other humanities students and take "Professional Pathways in the Liberal Arts." It is a worthy interdisciplinary requirement that exposes you to the many paths available so you can connect your major—and interests—to a career. And you have options to  immerse yourself in courses such as "Professional and Technical Writing," "Public Speaking" and "The Literature of Leadership." Or work on collaborative projects in a Humanities Capstone course with other students majoring or minoring in English, Communications, and Languages. 
TO SET YOURSELF APART
Consider joining one of the Leadership Academies, developed using our bedrock Leadership Development System with an experiential learning approach for those interested in joining either the private sector or government workforce to serve our country. These academies focus upon pathway opportunities for tuition assistance, fellowships, and internship programs.
While you are finishing your degree talk to your faculty about enrolling in one of our Accelerated Master's Pathways where you can apply your upper-level undergraduate courses and training into graduate credit and finish within 12-18 months after graduation online.
DEFY EXPECTATIONS AFTER YOU GRADUATE 
Let Tracy Poirier, who returned to Norwich to fulfill her career goals, inspire you. She is the first woman to be promoted to brigadier general in the Vermont Army National Guard. Or join our recent alumni who have gone to law school or chosen careers in education, business, film, politics, journalism, publishing, and the military.