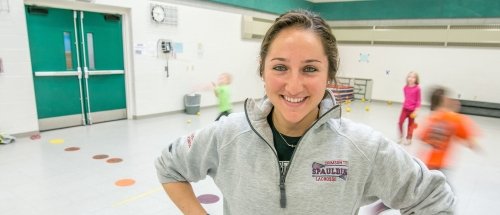 Physical Education
PE is for everyone. Become an expert on the human body as you learn effective teaching and curriculum planning in a rigorous, science-based program.
About the Program
Our outstanding faculty and challenging study options are two important reasons why Norwich University's Physical Education Department is one of the best and most highly regarded in the nation and prepares you for many positions in teaching activity and athletics. Post-graduation, Norwich University physical education majors enjoy a job placement rating over 90% across the U.S. If you're interested in becoming a physical education teacher, coach, fitness trainer or coach, social worker, recreation director, or athletic director, Norwich may be the perfect choice.
Highlights of your education at Norwich include attending PE conventions, presenting at PE conferences, outdoor canoeing field trips, and managing extremely rewarding Special Olympic events.