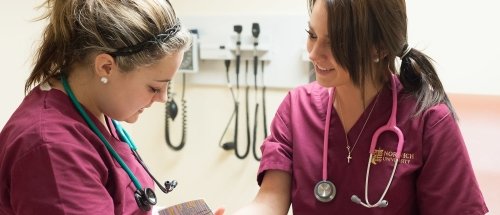 Health Science
Employment in health care is projected to grow nearly 20 percent through 2026, accounting for about 2.4 million new jobs—more than any other occupational group, according to the U.S. Department of Labor Bureau of Labor Statistics.
About the Program
The Health Science degree is designed to prepare you for the rigors of health-related graduate programs. Regardless of your chosen path, you'll explore various health careers, conduct informational interviews, observe professionals in your field of interest, and practice interview skills. Throughout the major, you'll find plenty of opportunities for hands-on learning in anatomy and physiology, biology, chemistry, and physics. You'll develop leadership skills needed to manage current challenges in health care. Later in the major, you'll examine current research and develop strategies to improve health outcomes through courses in health promotion and epidemiology. The Health Science program culminates in the successful completion of an original capstone project that allows you to apply what you've learned to tackle a challenging, real-world problem or issue.
If you are interested in a career in high-growth health care fields, our Bachelor of Science program in Health Science provides you with two great options:
Pre-Professional Health Careers
The Pre-Professional Pathway prepares you for graduate or professional study in medical school, physical therapy, occupational therapy, physician assistant, and other related programs. Students take a core of health-related courses, with ample flexibility to shape a curriculum needed for admission into your chosen field of post-baccalaureate study.
Accelerated Master of Athletic Training
The accelerated Master of Athletic Training pathway prepares you for a career in athletic training through our innovative 3+2 program. Students complete both a bachelor's in Health Science and master's in Athletic Training in five years. Your fourth year serves as both the senior year of the bachelor's in Health Science and the first year of the master's degree in Athletic Training, as long as you meet admission criteria for the graduate program.