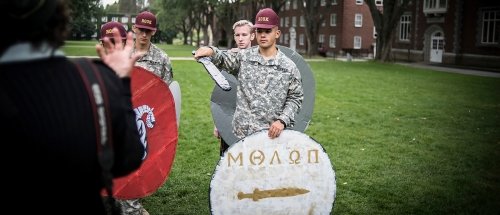 History
LEARN HISTORY AT NORWICH TO CHANGE THE FUTURE. 
Graduate as a highly trained social scientist, prepared to address the challenges and opportunities of today's global, connected, and interdisciplinary professions. Choose from a wide range of highly relevant careers—particularly if you intend to serve your country—in or out of uniform. 
YOUR LIFE AS A HISTORY MAJOR AT NORWICH
Take the engrossing journey to delve into the past. Our faculty will inspire your intellectual growth by challenging you to interpret those learnings to create new paths to positively impact the future. Learn to become a diligent researcher adept at evaluating sources. Let us teach you to craft compelling narratives as you absorb how to question, synthesize information, organize arguments, make inferences, and form conclusions. 
Explore a specialty ranging from ancient Greece and Rome, the modern Middle East, and colonial America to the U.S. Civil War, international human rights, early modern Europe, and modern China. Engage in topics you are already curious about—we will introduce you to new ones. Consider bundling one-credit niche courses like history and the movies, historical simulations of the Constitutional Convention, or the 1861 Kentucky legislature. 
YOUR EXPERIENTIAL LEARNING OPPORTUNITIES
Learn history in the field and immerse yourself in hoplite battles, walk Civil War battlefields, and work in the archives in Washington DC. 
To set yourself apart, consider joining one of the Leadership Academies, developed using our bedrock Leadership Development System with an experiential learning approach for those interested in joining either the private sector or government workforce to serve our country. These academies focus upon pathway opportunities for tuition assistance, fellowships, and internship programs.
DEFY EXPECTATIONS 
While you are finishing your degree consider enrolling in one of our Accelerated Master's Pathways where you can apply your upper-level undergraduate courses and training into graduate credit and finish within 12-18 months after graduation online.