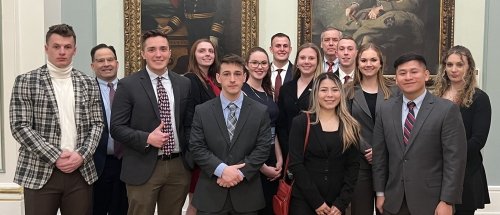 Political Science
BEGIN YOUR JOURNEY TO EFFECT CHANGE
You are on a trajectory to positively impact your community, country, and the world. So, our faculty invites you to bring your fresh perspective to study Political Science here at Norwich. You will find that we emphasize the study of the duties and obligations of citizenship, service to others, and civic engagement at the local, state, national, and international levels. And we will push you to develop and continually sharpen the must-have critical thinking, analytical, communication, and research skills necessary to powerfully influence the world around you. 
YOUR LIFE AS A POLITICAL SCIENCE STUDENT AT NORWICH
We will take you on a journey to explore national and international politics and challenge you to tackle growing concerns about the health and stability of democracy across the globe through research, internships, and academic field trips.
This involves taking in-depth courses about political institutions, systems, and processes and studying how governments, groups, and individuals seek, obtain, and use political power.
IT IS NOT JUST IN-CLASS STUDY
Norwich invented experiential learning over two hundred years ago and we still practice it today. So, take advantage of the opportunities to apply classroom learning to real life scenarios. Gain practical experience with an internship or explore your interests with innovative courses in engaging topics around political issues, such as the U.S. Presidency and Films or Mock U.S. Supreme Court, where you and your peers serve as litigants and justices in Supreme Court cases. 
STAND OUT FROM THE REST
Consider joining one of the Leadership Academies, developed using our bedrock Leadership Development System with an experiential learning approach for those interested in joining either the private sector or government workforce to serve our country. These academies focus upon pathway opportunities for tuition assistance, fellowships, and internship programs.
While you are finishing your degree talk to your faculty about the option to enroll in one of our Accelerated Master's Pathways where you can apply your upper-level undergraduate courses and training into graduate credit and finish within 12-18 months after graduation online.
PURSUING YOUR AMBITIOUS GOALS
Upon graduation, open the door to a wide spectrum of exciting careers and advanced degree opportunities. Perhaps you are already committed to an active-duty role in the armed forces, jumping into politics, or pursuing graduate or law school.
But you may also consider shaping the future as an interest group advocate, educator, journalist, law enforcement agent, policy analyst, local or state legislator, or public administrator. And the list goes on because you can also explore new possibilities in the private and public sectors. 
Your Political Science degree, from Norwich, is the first step toward making your mark in the world.