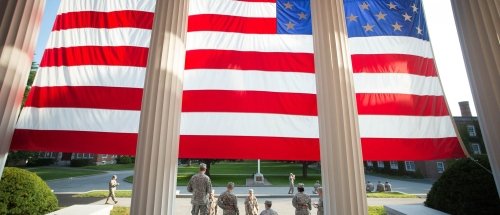 Studies In War and Peace (SWAP)
YOUR OPPORTUNITY TO THINK DIFFERENTLY
Of course, you will focus on one of the most important subjects about the history of humankind. But our faculty will also challenge you to take an interdisciplinary approach to your studies. It is important that you take your natural inquisitiveness and test your own worldview by immersing yourself in English, economics, philosophy, modern languages, or sociology. This is how you learn the importance of considering all perspectives as you explore humanity's past, present, and future.
STUDYING SWAP AT NORWICH UNIVERSITY
You will join an impressive program—a one-of-a-kind in the United States—that combines history, political science, with military and diplomatic affairs. Expect to flourish in small classes where, like you, every student possesses an innate curiosity and is as intrigued by military history and diplomatic subjects. 
Expect a rigorous and rewarding journey for you to gain a deep knowledge of history, appreciation of and sensitivity to political nuances, and diplomatic expertise.
And it is our passion to create opportunities for you to imagine peace and conflict resolution from divergent angles. We look forward to developing your understanding and appreciation of the social forces that produce them. Throughout your degree, you will tackle thought-provoking questions such as:
Why do people say they want peace while glorifying war?
Does interdependence between countries like the United States and China make conflict more or less likely?
How has warfare changed over time and across cultures, and what explains these changes?
What is the relationship between war, peace, and justice?
But we cannot teach you everything in the classroom—you will also tour battlefields and other living laboratories in small groups, guided by experts. Through these courses, you will explore the physical and environmental conditions and decision-making in ways not possible by sitting in a SWAP theory class.
STAND OUT FROM THE REST
 Consider joining one of the Leadership Academies, developed using our bedrock Leadership Development System with an experiential learning approach for those interested in joining either the private sector or government workforce to serve our country. These academies focus upon pathway opportunities for tuition assistance, fellowships, and internship programs. 
While you are finishing your degree examine the opportunity to enroll in one of our Accelerated Master's Pathways where you can apply your upper-level undergraduate courses and training into graduate credit and finish within 12-18 months after graduation online. 
PURSUING YOUR CAREER
Upon graduation, employers will appreciate your abilities to think critically and analytically to challenge widely accepted beliefs. Your breadth of knowledge and skills and flexible thinking will be highly valued in any of your planned career pursuits whether in politics; a government agency; law; non-profit, private, and public sectors; as a historian; or in the military – to name only a few.