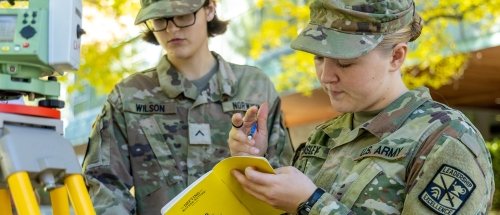 Civil Engineering
ENGINEER PROGRESS IN OUR WORLD
Your purpose-driven mindset is a perfect fit for Norwich—study how to improve communities and enhance lives through the study of civil engineering. Our faculty will take you on a challenging and rewarding journey to learn how to plan, design, build, and maintain systems we rely on in both the built and in the natural world—from dams, tunnels, skyscrapers, and suspension bridges to airports, the interstate highway system, water delivery and purification systems, and irrigation systems. 
BECOME PART OF OUR HISTORY TO DESIGN THE FUTURE
If you are considering Norwich University's Civil Engineering program, you will be preparing your future at the first private school in the United States to teach civil engineering—a 200-year legacy of fostering creativity, critical thinking and problem-solving skills, and awareness of the environmental impact of this work.
Upon graduation, employers will appreciate your depth of understanding of various engineering challenges: altering natural geography to meet human needs, the importance of public health and safety, or how to strengthen and evolve infrastructure to prepare for future challenges. 
LIFE AS A NORWICH CIVIL ENGINEER STUDENT 
Our faculty trains you to meet challenges with a logical and consistent progression. You learn the principles of the design process in the first courses and continually re-emphasize them in later coursework 
During your first two years, you will master the fundamental mathematical and scientific principles essential for engineering analysis and design. The final two years will ground your understanding of five major civil engineering sub-disciplines: water resources, structural, environmental, geotechnical, and construction. 
YOUR EXPERIENTIAL LABORATORY
Optimize your time spent in the laboratory sections to reinforce lecture topics and explore your potential through investigation and analysis.  
Your design experience culminates in your senior year as you explore your potential with a major design project.  
And take the opportunity to build your portfolio through other major-related activities and organizations, including student chapters of:
American Society of Civil Engineers
Chi Epsilon, Tau Beta Pi
Society of American Military Engineers
LEARN TO BE A LEADER
To set yourself apart, consider joining one of the Leadership Academies, developed using our bedrock Leadership Development System with an experiential learning approach for those interested in joining either the private sector or government workforce to serve our country. These academies focus upon pathway opportunities for tuition assistance, fellowships, and internship programs.
GO EVEN FURTHER
While you are finishing your degree consider enrolling in one of our Accelerated Master's Pathways where you can apply your upper-level undergraduate courses and training into graduate credit and finish within 12-18 months after graduation online.
STARTING YOUR CAREER
Whether you choose to work for a private engineering firm, construction firm, government agency, industry, or the military, there will be many areas of opportunity for you. As U.S. infrastructure becomes more fragile and complex, the need for Norwich graduates like you -- innovative problem solvers with engineering expertise -- continues to grow at a rapid pace.