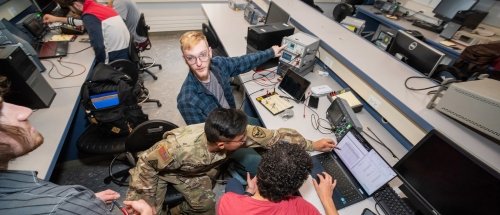 Electrical and Computer Engineering
BREAK BOUNDARIES YOU NEVER THOUGHT POSSIBLE
If you are ready to feed your technical savvy mind and drive for problem solving, we know you will be a perfect fit in our ECE program. This is where you will be tested and challenged to bridge electrical engineering and computer science to bring hardware and software together. 
Upon graduation, you will become a highly sought after computer software engineer that methodically analyzes the needs of users and companies then designs, constructs, tests, and maintains the necessary software or systems through your extensive knowledge of electronics, programming, and coding.
SAY GOODBYE TO LIMITATIONS 
Embrace our "I will try" mindset. It is especially important in our ECE program. Here, we ask you to try and if there are obstacles or setbacks—we inspire you to try again. Your mentality to keep going ignites a learning process that will take you beyond what you thought possible. As a Norwich ECE student, faculty and peers encourage you to keep trying and to break boundaries and defy limits. 
YOUR LIFE AS AN ECE STUDENT AT NORWICH
During your first two years in Norwich's Electrical and Computer Engineering (ECE) program, you will master the basic tools and problem-solving techniques that will serve you throughout your studies and career. Your foundation in mathematics, basic physical sciences, and the fundamental principles of engineering set you up for diving deep into the intricacies of the program.
In your final two years, we foster your growth through a hands-on learning approach. This means that you will practice what you have learned firsthand in a laboratory intensive environment. Expect to solve discipline-specific engineering problems in your third year. Then in your senior year, add the finishing touch to your degree with an open-ended, creative design experience. You will gain stand-out experience solving real-world problems by performing lab work with modern equipment, working with dedicated faculty, and in valuable internships in your chosen field. 
Keep tabs on new courses. You never know when we will add a new favorite to the program. Faculty are constantly updating the curriculum to remain innovative in the ever-expanding industry. One of our newest courses—developed and taught by Norwich's Artificial Intelligence Director—is Engineering Artificial Intelligence. 
ADD VALUE TO YOUR ECE DEGREE
To set yourself apart, consider joining one of the Leadership Academies, developed using our bedrock Leadership Development System with an experiential learning approach for those interested in joining either the private sector or government workforce to serve our country. These academies focus upon pathway opportunities for tuition assistance, fellowships, and internship programs.
While you are finishing your degree talk to your faculty about enrolling in one of our Accelerated Master's Pathways where you can apply your upper-level undergraduate courses and training into graduate credit and finish within 12-18 months after graduation online.
MAKE A REAL IMPACT IN THE WORLD
Your decision to pursue an ECE degree at Norwich means that your career options are wide open. Job availability for electrification of transportation systems and artificial intelligence in engineering applications continue to rise. 
You will be qualified to work as a professional in industrial, military, government, and academic settings—with an array of career choices, from artificial intelligence, machine learning, signal processing, aerospace, and electronic systems to circuits & systems, robotics, consumer electronics, and vehicular technology.